About Ayurkshethra
Ayurkshethra establishment started by Sree Sanku Vaidyar in 1909, presently is devolved by the 3rd generation has eventually transcended into Ayurkshethra Group of Companies. Through integrated approach, Ayurkshethra Group has been rendering excellent services in India as well as abroad. The Group's primary centreing services are catered through Ayurkshethra Ayurveda Hospitals having its head office in Cherthala, Alappuzha, has surpassed and started branches across the world. Its perseverance continued to bind the authenticity of traditional procedures of Ayurvedic treatment. Simultaneously, the Group integrated with the modern medicine to commence ayurveda-based Multi-Speciality Hospitals across India. Ayurkshethra Group having more than 100 years of heritage, has accomplished many feats. Acknowledging the prerequisite, the Group extended its authentic traditional ayurveda therapies through Wellness Centres across the world. The Group embarked on institutional education and started Ayurkshethra Institute of Ayurveda Medical Science (AIAMS) which received award for being World's Largest Para- Medical Trainer. As an innovative program in ayurveda, the Group commenced Mobile Clinic for the vulnerable people in the rural areas. Bolstering itself in the line of ayurveda practice, the Group expanded further with Village Resort in Cherthala, Charity Foundations, etc. The Group abides by its indomitable ayurvedic treatments and procedures inherited from generations to propel the wondrous traditional medical therapies to greater heights.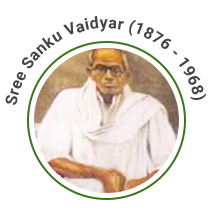 Our tradition in Healthcare - "Ayurkshethra since 1909"
In 1909, Sree Sanku Vaidyar had established treatment centre as well as a medicine production unit in the premises of his house in Vayalar, Alappuzha. His pertinacious and perseverance has earned him immense popularity. He was recognised and awarded many times by the erstwhile rulers of Thiruvithankoor. He was a stern supporter of the Gurukulam style of education system. He was born in 1876 and died in 1968. Since his death, 3rd generation of his family had been very successfully running authentic Ayurkshethra Treatment Centres across India as well as abroad.