Ayurkshethra Hospitals, the significant body of Ayurkshethra Group instituted in 1909 in Cherthala, Alappuzha. The heritage of Sree Sanku Vaidyar, founder of Ayurkshethra, currently being channelled by its efficient 3rd generation doctors. The hospitals are incorporated with GMP certified medicine production units which has resorted to traditional formulas of Sree Sanku Vaidyar. Ayurkshethra Multi-Speciality Hospitals are managed by expert doctors of Ayurkshethra family and eminent doctors from India manage Specialised Clinics of their speciality. Our Multi-Speciality Ayurveda Hospitals have facilities such as Multi-Speciality care, Allopathy-Ayurveda cross consultation, Physiotherapy, Labs with most modern diagnostics methods, etc. All the therapies are undertaken by in-house trained staff. Our wellness & rejuvenation departments have various healthcare packages to maintain and restore health, anti- aging packages, etc. Separate hospital has been instituted for the treatment of Paralysis patients with teams of Allopathic Neuro and Physiotherapy for immediate assistance. Recovery is assured when medicines of traditional formulas of Sree Sanku Vaidyar is combined with the treatment by inheritors of his traits. Lady doctors of Ayurkshethra family manage the first-of- its-kind Sthree Ayurveda, a speciality hospital. Only In-house trained lady therapists are appointed here for assistance.
Our Tradition in Health Care
"A Hospital since 1909" In 1909, Sree Sanku Vaidyar had established treatment centre as well as a medicine production unit in the premises of his house in Vayalar, Alappuzha. His pertinacious and perseverance has earned him immense popularity. He was recognised and awarded many times by the erstwhile rulers of Thiruvithankoor. He was a stern supporter of the Gurukulam style of education system. He was born in 1876 and died in 1968 Since his death, 3rd generation of his family had been very successfully running authentic Ayurkshethra Treatment Centres across India as well as abroad.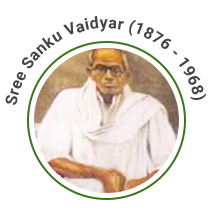 Traditional Gallery